Phil's Travels - Tower of London #2 (1114)
11/11/2014
Phil's Travels - Tower of London #2 (Nov 14)
Back in early August, I went to see the first poppies being planted at the Tower of London. Today is the 11th of November 2014 and this morning I returned to the Tower to take the second of my 'before-and-after' photographic series (see below, and see earlier Tower of London blog for the 'before' image).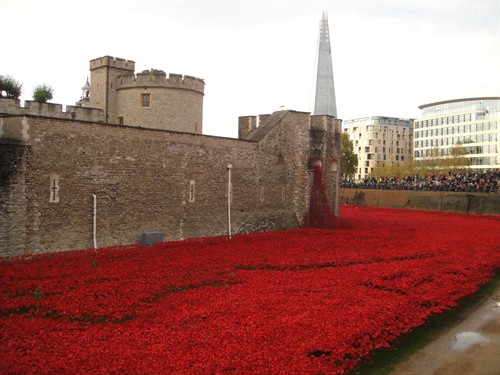 Even at 07.30 this morning, the walls of the moat around the Tower were crowded with people. Many took photographs, but most people simply stood and contemplated the immensity of the installation and its implications. It is amazing how big a number 888,246 is when you see it in poppies. The grass of the moat was completely covered in a carpet of red. It has to be the most powerful way of remembering one of the darkest periods in human history.
If you have not seen the poppies yet, get down there quickly. Their removal was due to start tomorrow, but they have been given an extension so you may still have time. For those who can't make it, there is even talk of the poppies going on tour. If you should happen to see my poppy (purchased for a very modest £25 +p&p), please make sure it is treated well and shown due respect.