Phil's Travels - Tower of London
18/08/2014
BLOG - Phil's Travels - Tower of London
This is a two-part quickie for those who are not aware of some of the amazing events that take place in this amazing city.
The first is a before-and-after exercise. I heard about the Tower of London Remembers The First World War via the TV news. The idea is so simple and yet so effective. It is visually stunning and really brings to life the words "Blood swept lands and seas of red" (taken from a poem penned by an unknown WWI soldier). Essentially, the artist Paul Cummins has handmade 888,246 ceramic poppies (one for each British fatality in WWI) and they are slowly being planted in the dry-moat around the Tower of London. The process started on 5 August and the last poppy will be planted on 11 November 2014. I took the photo below on Saturday 9 August, so only a few days after the launch. I hope to take another photo in November in order to share the completed installation with you.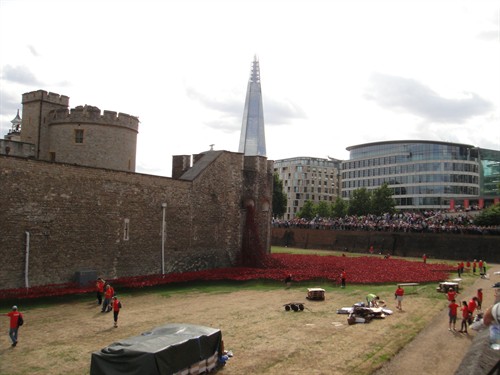 The second quickie came to light as we walked from the Tower along the River Thames that same evening. The place was heaving with tourists of all shapes and sizes. And not just on the River Walk. There were people on the banks of the river, actually on the exposed rocks and stones of the river (it was low tide obviously). There were even buskers performing down by the water's edge, with passers-by dropping coins into a hat from the River Walk above. But the feature that really caught my eye was the sand-artist who sculpted a model of Venus in an exposed sand bank close to the Shakespeare's Globe Theatre (see photo below).